Medical Device Injection Molding: Complex Manufacturing Without Complex Pricing
The manufacturing process should always be in the forefront of a medical device engineer's mind as manufacturing costs quickly rise with the complexity of each part. A key element in this process involves the anticipation of manufacturing solutions prior to the actual design stages of a part itself.
Luckily, injection molding offers a cost-effective and efficient process to move medical device projects forward without sacrificing safety or quality.
Medical injection molding is an established and developed process for producing top quality medical devices and has been trusted ever since its conception and has continued to change the industry. The diversity of plastic resin that can be used with injection molding, and the materials that can be inserted into the mold cavities, is wide a diverse.
This process is especially beneficial for medical engineers as flexibility and cost-effectiveness go hand-in-hand with injection molding. Medical device plastics can also be versatile and this is best utilized by molding on a vertical injection molding machine. Multiple shots can be taken within seconds of each other which helps speed up production while keeping costs low.
With the recent development of liquid silicone (LSR) insert molding, even greater possibilities exist to manufacture devices that previously had not been thought feasible. Very small guide wires down to .005 in diameter can be held in a concentric position in a mold while LSR is injected carefully around them.
Even tiny glass capillary tubes can be insert molded into housings that contain them in parallel layers. In cases like this, the outside surface of the tube often needs to be treated with a liquid primer, to insure a chemical bond between the glass and plastic.
This same technique also allows inert materials like Teflon to be considered for insert molded applications. More recently, medical devices have been designed to actually mold LSR onto a thermoplastic base or structure.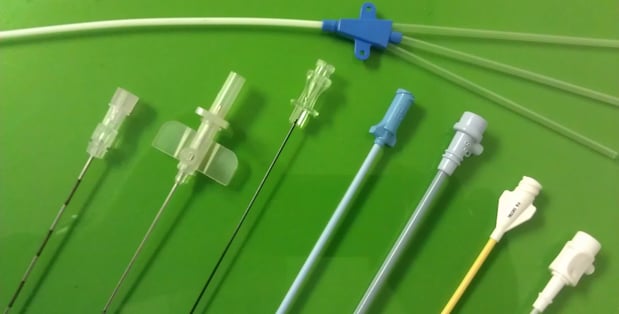 One example incorporates a polycarbonate substrate with perforations that is placed in a mold while LSR is injected over the surface, forming liquid-tight "drums" that act as pumps in drug delivery systems. Even silicone catheters and angioplasty devices are becoming more exotic in their design and functions, using similar methods.
Device manufacturers familiar with the opportunities afforded by insert molding can begin during the initial design stages to plan the right approach to manufacturing their products. For medical devices, clean room injection molding is necessary and must also be kept in consideration when designing a product as many shops do not have access to a clean room.
Most companies specialize in either mold tooling or production injection molding for these critical, close-tolerance applications. However, some companies (like Aberdeen Technologies) offer both services as it is often better to utilize a company that is proficient with both technologies to assist with the project at the very beginning.
The expertise that can be gained may yield substantial long-term benefits in both quality and cost maintenance.
Stuck on a project? Request arisk-free evaluation to see how medical injection molding experts Aberdeen Technologies can help move your project forward.