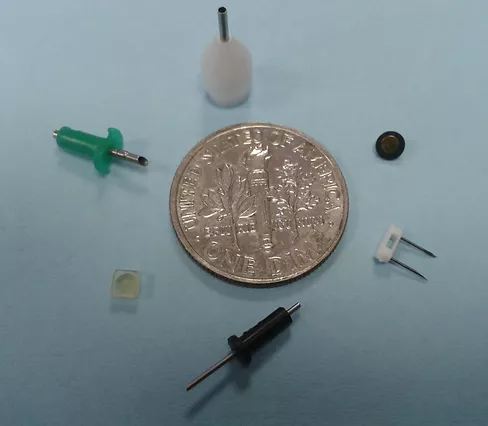 Micro Insert Molding
Since the dawn of the industrial revolution, manufacturing has been a key driver of economies and society. It has created the world around us, the infrastructure that supports us, and the products that enrich our lives.
And, as manufacturing continues to evolve, so does the way it's done. Modern manufacturing is centered on two core processes: molding and machining. They are at the heart of many diverse manufacturing industries, including plastics, electronics, building materials, food & beverage, and everything in between.
But with the constant emergence of new materials, new applications, and new requirements, molding techniques are changing too. And it's changing in ways that are bringing manufacturing to new levels of efficiency, sophistication, and performance. And if there is one technology that is driving this change, it's injection molding. In today's ever-dynamic consumer landscape, injection molding has proven to be a true workhorse for engineers and designers.
Capable of handling the most complex production requirements with ease and with virtually no scrap, injection molding has helped bring new life, new forms, and new functions to manufacturing. But if you are new to this modern-day technology, you might be wondering: what is it, and how does it work? What benefits does it offer? And how can it help you bring your ideas to life? Well, being a premier injection molding company, we are here to help.
From the basics of injection molding to the intricacies of modern-day solutions, our understanding of this technology, its processes, and its applications is encyclopedic and should help you make the right decisions for your next manufacturing project.
So, take a look at our in-depth guide and learn what you can do with injection molding to bring your ideas to life!
What is Micro Insert Molding?
Micro injection molding is a plastic insert molding process for parts that need to be manufactured as small as .050" and can maintain critical tolerances in the range of 10 to 100 microns. This molding process permits the manufacture of complicated parts while maintaining the maximum possible accuracy and precision.
Being a low-cost, low-scrap process, it is a perfect solution for producing a large number of products at a low cost and in a short period of time. The process can handle highly complex geometries, including threads, plunging/bulkheads, and holes. It also has the ability to create products with materials that are not possible with other processes, such as PETG, ABS (acrylonitrile butadiene styrene), and polycarbonate. In short, micro injection molding is a versatile process that allows you to create a wide range of products with a high degree of accuracy and precision even when the desired size of the final products is in the micro range (~.050").
So, if you are looking for a process that can produce highly complex products with a high degree of efficiency, precision, and repeatability, micro injection molding is your best bet. And at Aberdeen Technologies, Inc., we are proud to be one of the best micro injection molding companies in the US. Drawing from 80+ years of combined experience, expertise, and knowledge in redefining the "usual" approach to manufacturing with our specialized micro injection molding solutions, we are confident that we can help your business achieve its full potential and deliver the services and products your customers want.​
What Machines Are Used for Micro Injection Molding?
​
Being a specialized process, micro injection molding has a set of specialized machines designed for it. There are three types of machines that are commonly used: single-cavity, multi-cavity/multi-axis, and tandem machines.
A single-cavity machine is designed to create one product at a time and can be considered as a benchtop version of a standard injection molding machine—it's got all the same capabilities as its bigger brothers, but it's much smaller in size. Multi-cavity machines are designed to handle high volumes (greater than 1K pieces per hour) with complex geometries; these make up 90% of all injection molding machines out there. And lastly, tandem machines combine two or more single-cavity machines into one large production system for extra efficiency and throughput, making them ideal for handling very high volumes or very complex geometries.
Most manufacturers utilize some combination of single-cavity, multi-cavity/multi-axis, and tandem machines based on their individual needs. This helps ensure high quality and productivity without overburdening, underutilizing, or wearing out any of their equipment. If you're interested in learning more about how to get started with Micro Injection Molding, feel free to contact us today!​
What Sizes Can Micro Injection Molding Handle?
With advancing technology and growing demands for compact yet functional products, it has become necessary for businesses and manufacturers to find better ways of creating highly intricate parts that are light in weight, small in size, and efficient. Fortunately, micro injection molding can do just that. Capable of handling molding projects with .004 or even smaller specifications, micro injection molding allows these tiny components to be created quickly and efficiently saving time as well as money! Utilizing a combination of plastics such as ABS, PA66+GF30S nylon blend, PPSF silicone elastomer, PC/ABS mixes, etc., this process produces strong components that can stand up to rigorous use without affecting their form or function.​
In fact, the whole process is so effective that a well-optimized machine tool can create the desired product within a few seconds after the material is melted into a hot cavity by means of an electric heater or other industrial processes. If you, too, are looking forward to manufacturing your own range of high-quality but miniature-sized precision parts, our experts at Aberdeen Technologies, Inc. would love to assist you!
Types of Molding
Insert or Lead Frame Molding
Evolving from standard injection molding, insert molding and lead frame molding are used to create a custom design that's then later attached to a PCB or a larger assembly. This is a great way to integrate electronics into a product that otherwise wouldn't be able to hold it, and it's a process that's ideal for a lot of applications. Insert molding requires a PCB to be inserted into a mold, and then the mold is closed, and the product is injected with plastic. The plastic is then allowed to cool and harden, and the PCB can be removed.
Lead frame molding is used for heavier components, as the mold cavity needs to be deeper before it can be injected. In this case, the components are placed into a custom mold, and then a metal lead frame is placed around them. The lead frame is then connected to a PCB and connected to the ground, and the product is injected with plastic. While this process is a bit more complicated than standard injection molding, the results are often worth it. This process is used in many different applications, including automotive, consumer electronics, and medical devices. Some of the most common examples of products that utilize insert or lead frame molding are implantable medical devices, such as pacemakers, defibrillators, and cochlear implants:​
2-Shot Micro Molding:
Molding two different types of plastic components into a single part is a challenge. The problems include the difference in thermal expansion of the two different materials, the shrinkage of the mold cavity, and the molding process itself. However, thanks to micro injection molding, the problems have been overcome.
Bringing two different polymer components together as a single part not only improves the appearance of the product as a whole but also helps with the distribution of the product's weight, improves the product's durability, and makes it more functional. Moreover, the whole process of micro molding is done through a single injection molding machine, and it can be done at mass production speeds while keeping the cost at a minimum.
Why Choose Aberdeen for Your Micro Injection Molding Needs?
Automation & Packaging
Because micro injection molding is such a specialized process, it can easily prove to be difficult and costly to manage manually. However, thanks to automation and packaging, businesses can now save money while maintaining high quality and volume. Depending on an individual's unique needs and budget, we offer a wide range of automation and packaging options that can streamline your process and allow you to focus on things that matter most.
With our specialized in-house automation and packaging capabilities, complete integration with any one of our processing machines is assured. From specialized die-forming packages to reel to reel packaging and singulation to in-line inspection, we are well equipped to handle all kinds of jobs! All you have to do is reach out to us! After all, at Aberdeen Technologies Inc., what matters most are not only our machines but also their applications—our success lies solely in being able to assist customers who are looking for custom solutions for their business or industry demands. We look forward to working with you!
Quality Assurance
Whether you are looking to create precision parts with minimal scrap, or ensure strict quality control across all your products, our experts at Aberdeen Technologies, Inc. are here to help! With an in-house staff of highly qualified team members that also boast years of experience in other mold-making industry segments, you can be sure that every step of your project will meet your needs.
At Aberdeen Technologies Inc., we believe that every customer has a unique set of expectations and requirements—that's why we make it a point to provide them with nothing less than custom solutions crafted for their individual projects and ideas. We offer complete customization capabilities along with guidance throughout your project from start to finish, which means you can rest assured knowing that there is no detail too small for us to notice—or solve!
Further integrating FMEA (Failure Mode Effect Analysis) into our product design process, along with robust Material & Process Development Labs, helps us to understand your goal(s) and offer viable recommendations accordingly. Lastly, because nothing is more important than achieving a high level of consistency among all components produced by one machine tool or process setup, we have developed specialized techniques to evaluate manufacturing processes on a real-time basis and troubleshoot any potential problems before they affect quality standards.
For assistance with any type of automated packaging, process evaluation, or QA-related concerns, contact us today! We would love to help you achieve higher standards within your business or organization today!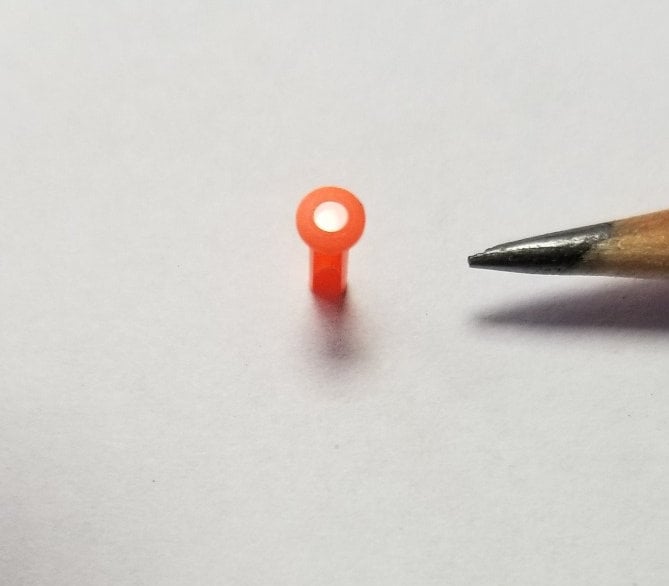 Materials Best for Micro Molding
​
Whether you're interested in small metal components or other non-plastic products, our experts here at Aberdeen Technologies Inc. are ready to help you choose just the right material based on your goals and budget! Our selection of materials ranges from carbon-filled LCP to glass-filled nylons and PEEK, among others—all tailored towards providing both high performances while remaining cost-effective! Whatever type of product you are looking to create with micro injection molding, we can find a material that is best suited for your project(s) today.
Further drawing from our 80+ years of extensive experience across industries such as consumer electronics, medical devices, automotive & transportation technologies, packaging solutions, and more--we have developed a wide array of expertise in working with customers around their unique needs and concerns. Simply put, if you're looking for custom solutions to fit within your company or organization's manufacturing process, Aberdeen Technologies Inc. is happy to help you achieve better results tomorrow!
Unrivaled Customer Satisfaction
In today's competitive business environment, it's vital to ensure that you receive high-quality products from your chosen supplier. With our wide range of specialized services and capabilities, you can rest assured knowing that we have a solution tailored for your unique project needs—no matter how demanding it may be! In fact, as a premier micro injection molding company, we take pride in maintaining lasting relationships with some of North America's top businesses across numerous industries.​
From automotive parts companies to medical device manufacturers & more--Aberdeen Technologies Inc. has been providing excellent service for over 80 years, which is why more customers continue to rely on us each year for a variety of special projects! From working closely with clients through their specific requirements to executing optimal processes within their company or organization, Aberdeen technologies strive to provide each customer with an unmatched level of customer satisfaction.
For assistance or questions regarding any aspect of our services or products offered, contact us today! We look forward to working alongside you and your team soon!
Get a Same Day Quote
Receive Your Same-Day Quote and Risk-Free Project Evaluation