3 Benefits to Using Molded Cable Assemblies
Molded cable assemblies can offer you the flexibility needed to complete most electronically operated applications. Custom cable assemblies are more versatile and can provide more quality than "off the shelf" cables.
Cable assembly manufacturing by means of insert molding is especially valuable for cutting down costs, installation, and lead times while maintaining a high quality product.
Don't believe us? Then continue to read for the top 3 benefits of using molded cable assemblies for your cable/connector assembly needs.
But first, to clear up some common confusion, we need to define cable assembly, cable/wire harness, and cable extrusion.
Cable Assembly: A cable assembly is a group of two or more wires arranged into a single product. The ends of these bundles are encased in a protective casing that acts as the end connection. Molded cable assemblies fall into this category, but there are many different types of cable assemblies including ribbon assemblies, coaxial assemblies, and overmolded cable assemblies.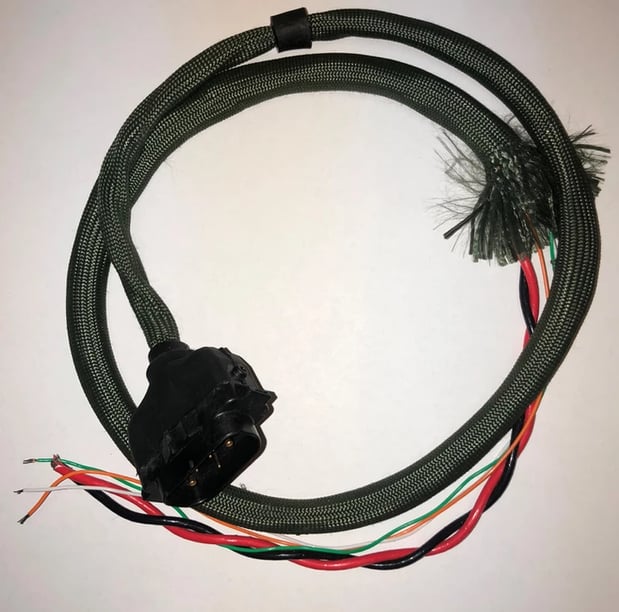 Cable Harness (or wire harness): Wire harnesses are typically made up of two or more cable assemblies and join at one end. These cable harness assemblies are able to provide multiple connections without mess or clutter. Wire harnesses are commonly used as a low-cost electrical solution to keep wire bundles secure and organized.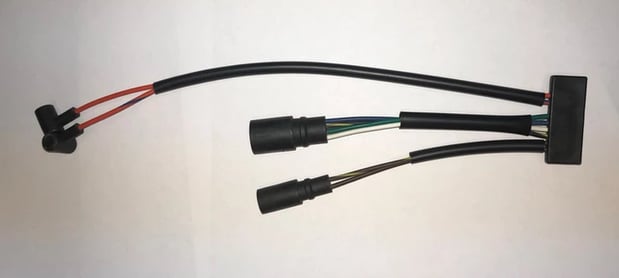 Cable Extrusion: Cable extrusion is the process of wrapping the length of a wire in a protective covering to shield it from external damage or physical wear. Cable extrusion can be used on a single wire or multiple wires sealed together and is typically performed prior to a cable assembly if necessary.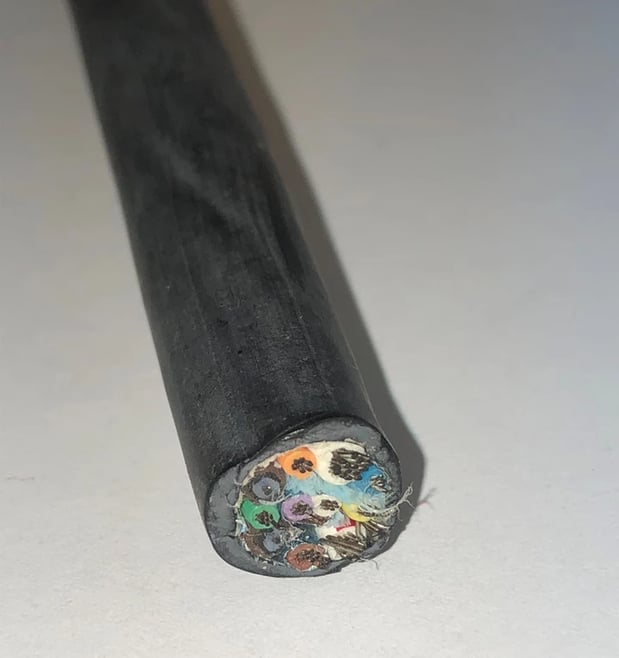 Common materials used for cable assemblies: PVC, thermoplastic elastomers (ex: santoprene), and other thermoplastic materials (ex: polyurethane).
Size
Molded cable assemblies can be formed to fit inside/around any obstacles or tight spaces within your application. The molded size is easily maintained and can be flexible to your specific needs. Vertical injection molding also offers an easy solution to different sized molds around the same wires with a simple cavity change. These are great for a custom cable assembly.
Color and Durometer
Match your company's branding, or help your cable blend into a product with the various color options that molded cable assemblies offer. Injection molding combines thermoplastic resin and colorant to not only grant you the freedom of color, but also the durometer (or hardness) of the plastic.
Design (connector style)
Custom designs let you get exactly what you need for your cable assembly. Add a company logo, or match a specific shape necessary for the cable to fit into your application.
Below are some of the custom designs we have worked on in the past.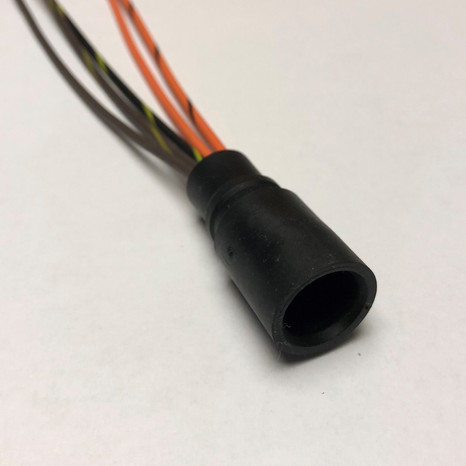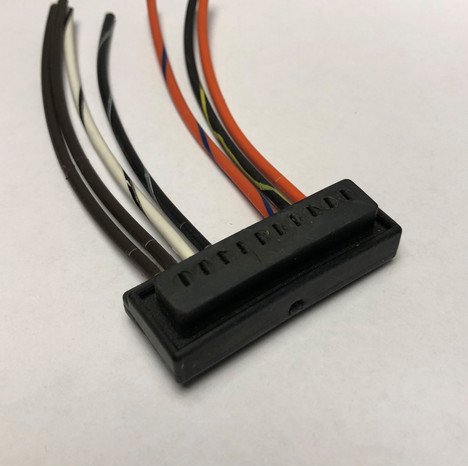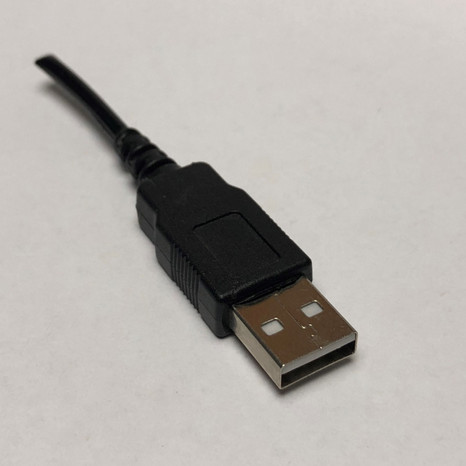 Quantity
Injection molded cable assemblies allow you to run your manufacturing process in a JIT or Lean format while maintaining low costs and quick yields.
Injection molding is a heavily sought out manufacturing process, especially for molded cable assemblies, because it combines cost efficient and large quantity productions at low cost.
By combining a vertical molding press with a rotary table, multiple molds can be run on the same machine at the same time. These molds can be entirely different family products and do not need to be the same size. Overmolded cable assemblies can also greatly benefit from this form of plastic manufacturing as most overmolds require a second molded operation.
Rotary tables can hold as many as twelve different molds at one time. The vertical injection molding process can efficiently produce the molded assembly and switch molds within seconds.
Having the flexibility of the mold design, plastic resin, and production quantity allows molded cable assemblies to be offered to any industry. The feature of offering a custom cable assembly is especially valuable to industries requiring unique designs.
Combining the vertical molding press with a cleanroom operation opens the door even wider for medical injection molding, and other tight tolerance/critical components that industries require.
Popular industries that use molded cable assemblies: Telecommunications, Automotive, Aerospace/Defense, Medtech, and Consumer Products and Appliances.
Due to the current trade climate with overseas suppliers, doesn't it make sense to consider bringing your cable/connector products back to a domestic supplier?
Stuck on a project? Request a risk-free evaluation to see how medical injection molding experts Aberdeen Technologies can help move your project forward.